The Flower and Garden Club is open to low-rent housing tenants in Montréal only and membership is free. The Club's goal is to promote greening and urban agriculture projects and generate civic engagement by encouraging residents to beautify their living environments. There are many benefits (fostering biodiversity, cleanliness, community life and neighbourliness) and the impact on the tenants' sense of pride and safety is undeniable.
To encourage tenants to join the Club, the OMHM offers a variety of free horticultural services. Sentier Urbain, a not-for-profit organization, has joined the effort by delivering services to tenant members.
Member benefits include:
horticultural advice: home visits or telephone consultations;
horticultural training for groups of five or more by request; enclosed the list of proposed subjects (in French)
donations of horticultural materials (cedar bins, potting soil, compost, mulch, garden soil, etc.); and
guided tours in the Sentier Urbain gardens.
To learn more about all the benefits currently available to Flower and Garden Club members, click here.
The OMHM Flower and Garden Club also encourages community and environmental groups that work with youths living in low-rent housing. These groups are eligible for financial contributions in support of projects involving young people. Groups should contact the low-rent housing community organizer to check their eligibility.
---
Interested in joining? Please call us at (514) 521-5608 or by email at cfj.omhm@gmail.com.  Simple and free!
Your Flower and Garden Club membership is renewed automatically each year. To cancel your membership, please contact us.
---
All through the summer 2021 season, Flower and Garden Club members created beauty, blossoms and cultivated wonders with a passion. The efforts of club members had a direct impact on the quality of living environments. With the warm season behind us, shovels, spades and rakes in storage until spring, here are some great pictures of last season's success.
Image
"I love fresh garden vegetables, they're so much better," says Francine Poirier. "I've set up a few planters around the back. You'll see that those planters are lower and not quite so long, handy for people with reduced mobility. I also take care of the flowers beds at the front of the building." Francine has been gardening with Mme. Mira for about 8 years. Another of her friends helps out as well.
Photo: Martin Alarie
Image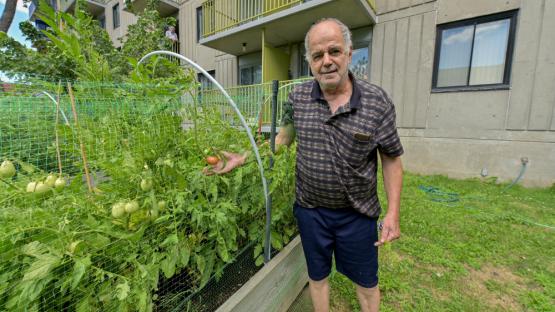 "My greatest pride," noted Ahmed Drissi, "is knowing that our garden project has turned out so wonderfully and that everyone is really pleased to have fresh vegetables."
Photo: Martin Alarie
Image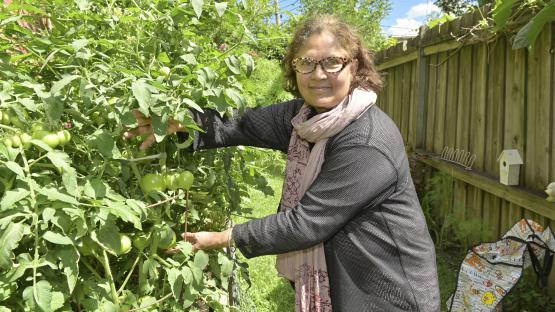 "The two of us come here regularly, the others are too old to get about. It's as if this garden belongs to us, said Fauzia Abasi. Just look at these apples, tomatoes... we even grow kiwis!"
Photo: Martin Alarie
Image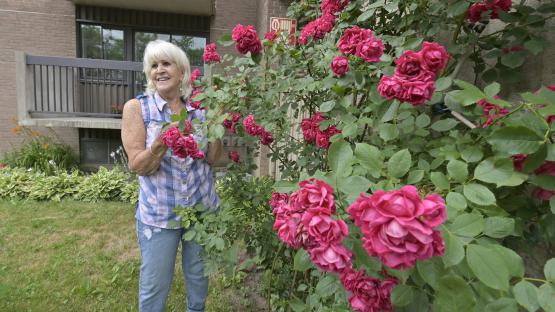 "Choosing the perennials, organizing the layout and placing the right plant in the right spot is what keeps me fit," said Addrienne Lambert.
Photo: Martin Alarie