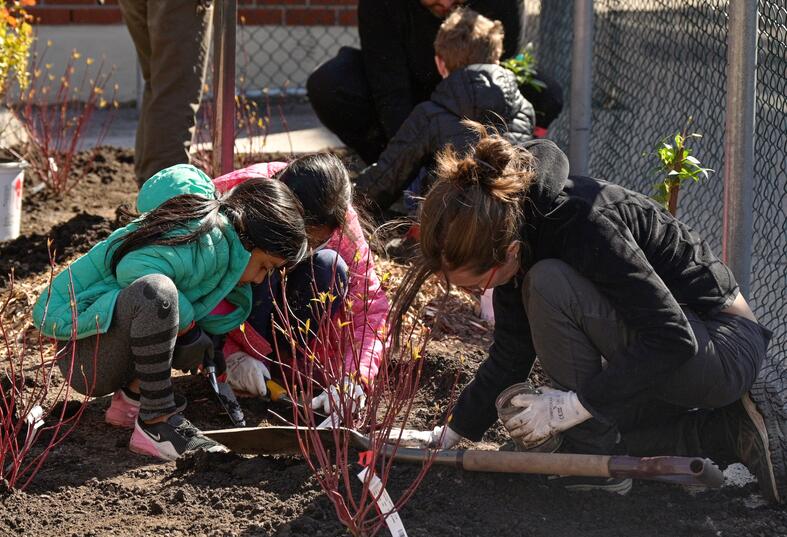 A management approach targeting positive social and environmental impacts
OMHM is committed to participating in the energy transition to fight climate change. These commitments are based on:
Montréal Climate Plan guidelines to achieve carbon neutrality by 2050;
Objectives set by the Government of Québec, including Société d'habitation du Québec, and the Government of Canada;
Criteria for greenhouse gas emissions, energy performance, and living environments' resilience.
These commitments are built around four main components:
Building
Resilience within the Montréal community
Sustainable mobility
Leadership and governance
OMHM is also working to improve waste management in buildings.
A dual approach is applied to constructing, renovating, and operating OMHM buildings:
Respect all government criteria and constraints and all industry standards;
Evolve in our methods, whether by using sustainable materials and energy-efficient products (ENERGY STAR windows, LED light bulbs, etc.) or adopting new practices (commissioning, sustainability, requirements, performance optimization and monitoring in facilities, etc.
The organization is also implementing multiple demand response (DR) strategies to reduce energy demand in extreme cold through a remote management platform. This system helps monitor the functioning in the buildings' electromechanical equipment. DR includes innovative and optimal programming sequences for sound management of the energy used by the equipment to reduce the overall consumption of gas and electricity.
The organization is also implementing a strategy to promote electricity as the primary energy source, or dual energy when this is not possible.
Resilience within the Montréal community
Commitments
Preserve the health of OMHM's urban forest and plant heritage;
Reduce heat islands on its grounds.
Urban forest and plant heritage management
Preservation efforts for plants and urban forests are integrated into long-term planning. OMHM is part of Montréal's Alliance Forêt urbaine, an initiative to plant trees as a means of combating heat islands and facilitating rainwater management on the island of Montréal.
OMHM has more than 7,000 trees on its grounds and uses a georeferenced tree inventory and regular monitoring of grounds to track the urban forest's extent, diversity, and health status.
OMHM subscribes to the Stratégie métropolitaine de lutte contre l'agrile du frêne to apply its emerald ash borer management plan by closely monitoring ash trees' health, planning TreeAzin treatment, cutting down sick ash trees, and planting replacement trees.
To help increase biodiversity in the OMHM forest, indigenous plant species that can withstand urban conditions and adapt to the planting site are prioritized. In the first three years after planting, new trees are regularly watered and tended to help promote root growth.
OMHM is currently developing a normative framework to protect trees when work is performed on buildings and grounds.
Combating heat islands
OMHM works with various environmental organizations to reduce heat islands on its grounds. Over the years, several hundred square metres of asphalt have been removed, and new landscaping elements have been added to improve tenants' quality of life.
Likewise, when redesigning parking lots, OMHM considers any possible measures to improve rainwater management.
Greening and urban agriculture
OMHM implements and supports many greening projects in its housing. Tenants are encouraged to join in greening and enhancing their living environment with the Flower and Garden Club, which has over 1,000 members.
OMHM also facilitates urban agriculture in living environments in response to tenants' requests, providing water access or certain materials. It can also help find sources of financing. These initiatives are developed in partnership with the city's Éco-quartier program, the Flower and Garden Club, and tenant associations and on-site organizations.
Sustainable mobility
Commitments
Reduce individual parking requests by 30% by 2025, largely due to remote work;
Reduce greenhouse gas emissions from its fleet of vehicles by 2030.
For several years OMHM has been providing employees with various alternatives to individual car use, such as car sharing, reimbursement for public transit fare, bike sharing, etc.
In addition, OMHM is working on a mobility plan to reduce greenhouse gas emissions caused by employee travel. This plan will include policy updates, communications, and support for alternatives to individual car use.
Leadership and governance
Commitment
Incorporate climate change and energy transition criteria into all activities, with special attention to greenhouse gas emissions, energy performance, and living environments' resilience.
Buildings that incorporate sustainable development principles provide better, healthier living environments, have a lower environmental footprint, and are more cost-effective to operate. OMHM is therefore adapting its practices and acquiring expertise to provide tenants with sustainable housing.
Residual Waste Management (RWS)
OMHM facilitates household waste sorting for various city collections and works with community organizations on information, awareness, and education for tenants.
Its RWS models are adaptable to various types of buildings, and the organization is always on the lookout for solutions to the specific needs of each building. OMHM tenants are encouraged to participate through initiatives such as:
Installation of semi-buried waste containers;
Installation of recycling and food waste rooms in high-rise buildings;

Transition from collective to individual management, in accordance with municipal by-laws.
The OMHM is gradually upgrading its existing infrastructure, which was not originally designed to accommodate waste management and storage. Significant operational and financial challenges are therefore involved in implementing food waste collection in all buildings of 9 dwellings or more, in accordance with the city's Plan directeur de gestion des matières résiduelles  (PDGMR).
Lastly, OMHM has established a system to recover residual hazardous materials (RHM) generated by maintenance and repair activities. Each year, several dozen tonnes of RHM are diverted from landfills.