The Flower and Garden Club is open to low-rent housing tenants in Montréal only and membership is free. The Club's goal is to promote greening and urban agriculture projects and generate civic engagement by encouraging residents to beautify their living environments. There are many benefits (fostering biodiversity, cleanliness, community life and neighbourliness) and the impact on the tenants' sense of pride and safety is undeniable.
To encourage tenants to join the Club, the OMHM offers a variety of free horticultural services and draws for gift certificates redeemable at participating nurseries. Sentier Urbain, a not-for-profit organization, has joined the effort by delivering services to tenant members.
Member benefits include:
horticultural advice: home visits or telephone consultations;
horticultural training for groups of five or more by request;
gift certificate draws for purchases at nurseries;
donations of horticultural materials (cedar bins, potting soil, compost, mulch, garden soil, etc.); and
guided tours in the Sentier Urbain gardens.
To learn more about all the benefits currently available to Flower and Garden Club members, click here.
At the start of summer, the OMHM draws more than 150 gift certificates available to all Club members through a partnership with participating nurseries. We would like to thank the following partners: Angel Jardins, Frank Fleuriste, Méga Centre Montréal, Les serres Noël Wilson et fils, Pépinière Jasmin and Willy Haeck and son.
For the names of 2019 gift certificate winners, click here.
The OMHM Flower and Garden Club also encourages community and environmental groups that work with youths living in low-rent housing. These groups are eligible for financial contributions in support of projects involving young people. Groups should contact the low-rent housing community organizer to check their eligibility.
---
Interested in joining? Just click here to complete the online membership form. Or, print out and complete the form, and then mail it to us at the following address:
Office municipal d'habitation de Montréal
415, rue Saint-Antoine Ouest, bureau 202
Montréal (Québec)
H2Z 1H8
Or call us at (514) 872-2016.  Simple and free!
Your Flower and Garden Club membership is renewed automatically each year. To cancel your membership, please contact us at 514-872-2016.
You can send us your questions and comments about the Flower and Garden Club by email at clubfleursetjardins@omhm.qc.ca
---
All through the summer 2018 season, Flower and Garden Club members created beauty, blossoms and cultivated wonders with a passion. Through the club's youth component, young people also helped their environment get greener with the support of different groups. The efforts of club members had a direct impact on the quality of living environments. With the warm season behind us, shovels, spades and rakes in storage until spring, here are some great pictures of last season's success.
Image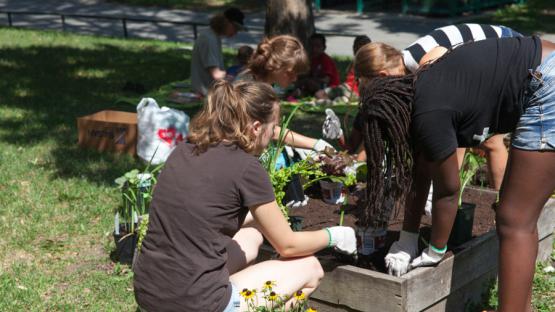 About 10 children, ages 5 to 12, took part in the ATD Quart Monde gardening workshop, with the help of Éco-Quartier. They helped plant basil, rosemary, perennials and herbs.
Image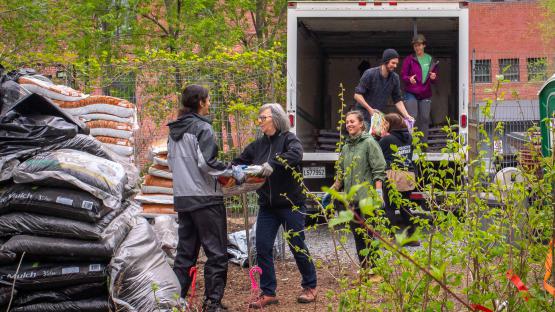 The Sentier Urbain team at work distributing soil and plants in June.
Image
Guided tour of Sentier Urbain's biodiversity and pollinator garden.
Image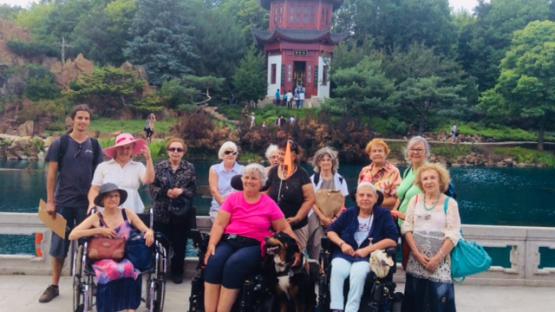 A few members visit the Jardin botanique de Montréal botanical garden on a sweltering summer day.