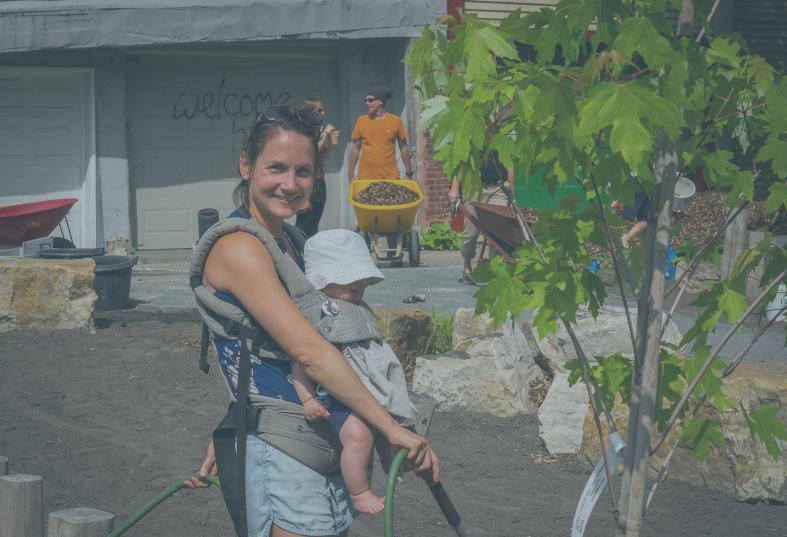 A management approach targeting positive social and ecological impacts
Procedures that affect the OMHM's strategic orientations
Several years ago, the OMHM committed to actions for sustainable development which it integrated in all its activities and which have influenced its strategic directions since. 
The OMHM takes into account the guiding principles of sustainable development, specifically seeking a better quality of life, social solidarity, economic efficiency, responsible consumption and environmental protection.
Waste management
Waste management is an important challenge in Montreal and, by extension, also for the OMHM. First and foremost, tenants are required to adopt good practices for all types of waste collections: recyclable waste, food waste, large items, household hazardous waste and regular waste.
For several years now, the OMHM has been aiming to improve its record for managing waste in its buildings. The organization favours the hierarchy of the 3RV-E principle: source reduction, reuse, recycling, valorization and elimination.
Like all citizens, tenants must adhere to municipal regulations by sorting their waste into different categories and in authorized containers on the sidewalk at the side of the road on the designated collection days and times.
The OMHM manages three types of buildings, each one with its own specific demands and challenges: large housing complexes (which comprise several buildings around outside public spaces), townhouses and high-rise buildings. 
Over the years, the OMHM has tried several different approaches to improve waste management with some success, including:
the installation of semi-underground containers or enclosures for wheeled bins;
the conversion of rooms that are now used for recycling and the installation of garbage chutes incorporating a sorting system in high-rises; and
switching from a system of collective waste management to individual waste management.
Waste management forces the OMHM to examine its existing infrastructures for temporary waste storage. The OMHM also frequently has to organize collection and transportation of these items.
Furthermore, the OMHM has implemented a system to collect household hazardous waste (HHW) generated by the activities of maintenance and repair teams and some of the HHW from tenants. In 2017, more than 50 tons of HHW were kept out of landfill sites: 62% were left behind by tenants and 38% were from maintenance and repair activities.  
Citizens' projects
Citizens' projects comprise three types of interventions: raising awareness for waste management, greening and urban agriculture. Every year, around thirty buildings benefit from such actions, which always involve tenants and sometimes even neighbours. 
Raising awareness for waste management
The OMHM takes great pride to involve its tenants in discussions and processes with regard to waste management. Within the scope of the City of Montreal's Éco-quartier environmental program, certain activities are organized to raise awareness among citizens in low-rent housing facing challenges with regard to cleanliness: door-to-door actions, workshops, monitoring visits and street parties.
Greening
The most important of all the greening projects is probably the Flower and Garden Club wiwth more than 900 members. To find out more, see here. 
In addition, every spring the OMHM recruits around fifty young people who live in low-rent housing as part of the clean-up and greening brigades. They are paid to green the areas and carry out maintenance all summer long.
 In addition to their environmental contribution, these actions actively promote social solidarity within the context of sustainable development.
 
Urban agriculture
To comply with tenants' requests, the OMHM facilitates implementation of urban agriculture in living environments. It can provide certain materials or supply water and can also help find sources of funding. These initiatives are developed in partnership with the City of Montreal's Éco-quartier program, the Flower and Garden Club, tenants' associations and organizations on site.
Energy and operational performance
When the Government of Québec adopted the Sustainable Development Act in 2007, the OMHM asked its technical teams, professionals and partners to incorporate sustainable development principles in their interventions.
The OMHM is aware that buildings that comply with sustainable development principles offer more pleasant and healthy living environments, have a lower environmental impact and are more economical to operate. Therefore, the OMHM uses a twofold approach for the construction, renovation and operation of its buildings.
The OMHM respects the criteria and limitations set out by the government as well as industry standards.
While adhering to its budgets, the OMHM improves its own standards by using sustainable materials, energy-efficient products (ENERGY STAR windows, LED bulbs, etc.) or through its practices (commissioning, sustainability criteria, requirements, monitoring and optimizing the performance of its installations, etc.).
With an aim to maintaining and developing its built heritage, the OMHM favours interdisciplinary work and integrated design principles. Thus, the teams of OMHM professionals develop both their practices and their expertise to provide tenants with a sustainable living environment.
Managing the urban forest and action plan to combat emerald ash borers
The OMHM is currently compiling an inventory of trees using Branché, a mobile geo-referencing app that is designed to assess the extent, diversity and health of its urban forest. This inventory will initially serve to implement an action plan to combat emerald ash borers. 
The emerald ash borer is an insect originating from south-east Asia that lays its eggs in bark crevices on ash trees, thus preventing the trees from feeding. In 2014, the OMHM developed an action plan to combat this, which is incorporated in the City of Montreal's strategy. The action plan comprises four stages: detection, vaccination, felling and replacement of ash trees one year after felling.
The OMHM is an active member of Alliance forêt urbaine, which aims to plant 300,000 trees in the Greater Montreal Area between 2015 and 2025.
By means of its actions, the OMHM contributes to maintain the tree canopy in Montreal together with the numerous benefits that this entails.
Partner of the City of Montreal
The Office municipal d'habitation de Montréal (OMHM) is a partner in the City of Montréal's sustainable development plan. With its partners, the OMHM contributes to efforts aimed at achieving more sustainable habitats that will reduce the Montréal's environmental footprint, particularly through better energy, greenhouse gas and waste management. 
We invite you to become a partner of the City's plan too.