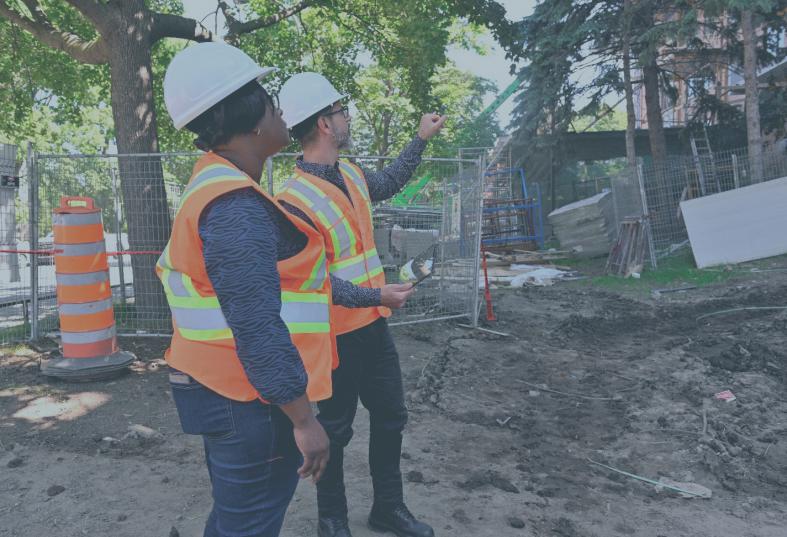 Housing 55,000 lives
Working at Québec's largest property manager
A career at the OMHM to make a REAL difference!
---

Great projects are built by great talents.
Our job categories
---
Thrive at work and in life
Working at the Office municipal d'habitation de Montréal means you are contributing to improving the quality of life of thousands of Montrealers every day.
We are committed to offering our employees a healthy, stimulating and enriching work environment. Make a difference in our dynamic team and help us bring our projects to life!
---
Our social benefits include
Work from home options in hybrid mode, according to current policy
Possibility of a flexible schedule and compressed work week (9 days out of 10 and/or 4 days out of 5)
A diverse and inclusive work environment
A philosophy that favours work-life balance
Group insurance plan for individuals and families
Competitive vacation options and leave policies
---
Selection process
You apply online.
Your file is reviewed.

If you meet the criteria, you will have a first interview.

If you are successful, you will have a second interview. Depending on the position, you may have to go through some additional steps (e.g. written tests).

If you pass, your references will be checked. You may be required to have a medical exam.

Welcome to the OMHM! Your start date will be arranged between you and your new team.
If at any point you are not selected, you will be provided with the decision and the reasons for that decision. Your application may be retained for other positions.
---
Equity, Diversity and Inclusion Statement
With the adoption of the Action Plan against Systemic Racism and Discrimination, the OMHM is committed to maintaining a culture and practices that promote equity, diversity and inclusion, thus creating work and living environments that are free of racism and discrimination. 
In addition, the organization is concerned to be as representative as possible of its tenants and, more broadly, of the Montréal population. With the help of Concertation Montréal, the OMHM has added several people belonging to racialized groups and ethnic minorities to its management team.  
The OMHM therefore invites members of visible and ethnic minorities, people with disabilities, Aboriginals and women who meet the requirements of the position to submit an application.